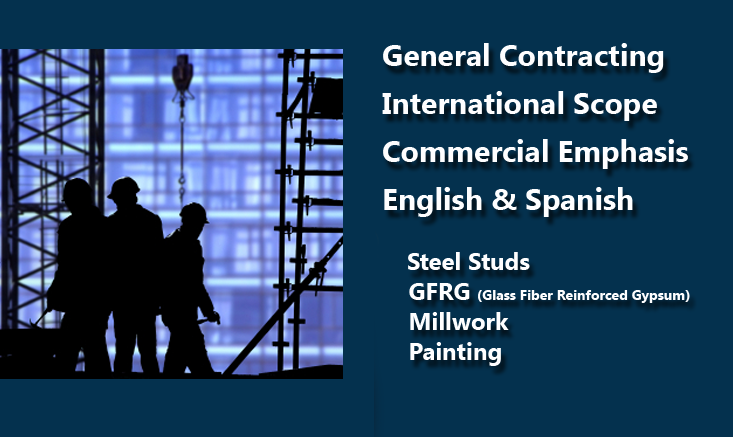 Thayne International is a prime general contractor capable of working world wide, focusing primarily in South America, Europe and Africa and providing services in four areas:
● Steel studs
● Drywall, GFRG (glass fiber reinforced gypsum)
● Millwork (cabinets, moldings, doors and hardware)
● and Painting
This makes Thayne International unique. Since we are responsible for four trades that are usually contracted with individually, coordination between the four trades is completely seamless. There are no arguments between sub-contractors about who is responsible for what overlapping item, or pointing fingers at the previous sub-contractor when there are delays.
We take responsibility for all our areas.
Since mechanical installations follow the steel stud framing, and the final finishes follow the painting, Thayne International's efficient performance literally drives and accelerates all the work inside the building.
Contracting with Thayne International saves time and money. Because Thayne International allocates mobilization and labor over four trades instead of one, overlapping and redundant costs are eliminated and completion deadlines are achieved more efficiently.
Our craftsmanship is world-class. We have extensive experience in building large-scale commercial spaces on time and within budget. We understand the most complex projects and our expertise makes the entire build process dramatically easier for the other contractors with whom we work.
Because we are understand every aspect of your project, we have greater control over the entire construction process - from project and risk management to cost and quality controls. We thrive on the challenge of working "hands-on" and owning responsibility for the most complex and challenging projects, both large and small. We deliver the best final cost, on time, every time.